Democratizing organic juice – a letter from our CEO
---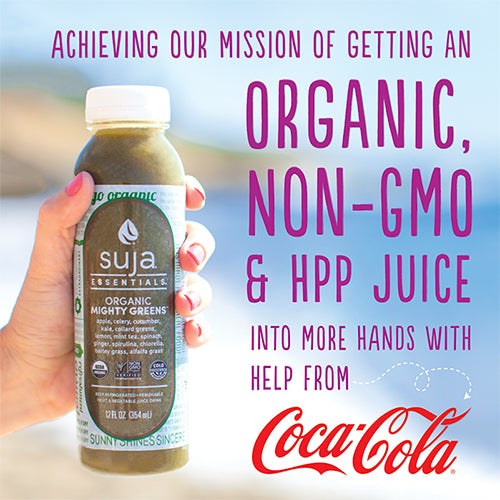 Did you know that only 4%1 of US food sales is of organic products and yet in a recent Gallup poll, 45%2 of the US population reported actively trying to add organic foods and beverages to their diets? This is a big gap, and makes sense if you think about it. Take juice, for instance: organic juice is more expensive than non-organic juice, and it's not as widely available, making it harder to find. Imagine if we could change that. Imagine if there could be an organic Suja Juice everywhere Coke products are sold.
When James, Eric, Annie and I started Suja, we were making juice in a home kitchen. It was probably the healthiest food I've ever eaten, but even better – it was among the most delicious. That's what stopped me in my tracks. I learned what food made from the best organic produce tasted like, and it was incredible. That was when the four of us decided that all people should have access to juice like this. Suja was born, and it became our mission to democratize organic, non-GMO and HPP juice and make it available to all at price more accessible than ever before.
You may have heard the next part of the story: we implemented HPP (High Pressure Processing) instead of high heat, which helps reduce harmful bacteria thus extending the shelf life and enabling us to distribute nationally. HPP also maintains a high yield of vitamins, minerals and enzymes and preserves a fresh taste. We launched into Whole Foods Markets in September of 2012, and have been chipping away at our mission ever since.
But for a small company like Suja, it's actually really hard to make and sell our juice profitably. This is true for a number of reasons: we buy relatively small amounts of organic produce, which is 40-50% more expensive than conventional produce and even more so when you buy in small quantities like we do. Also, the HPP process requires more labor and time than flash pasteurization which makes it more expensive too. Lastly, we don't have an extensive enough distribution network to get our juices to you in an efficient way. For our first three years in business, we relied on outside investments to keep our doors open and to be able to keep making the juice you love.
This only works for so long however, and in order for us to achieve our mission of democratizing the best juice – a mission we take INCREDIBLY seriously – we realized that we will need to partner with a company that has existing tools that we can leverage. Accepting a minority investment from The Coca-Cola Company allows us to leverage their distribution network and to expand our production to meet growing demand, without changing anything about our juices, which will always be organic, non-GMO and HPP'd blends of cold-pressed juice and purees. It's really important to us that you understand that before our discussions got serious with our new partner we had to make sure that they had no intentions of wanting to change the key pillars of our company which are 1) Organic and Non GMO; 2) Minimally processed; 3) Transparent on our product label and in our business and 4) Health and Wellness driven with a strong focus on innovation. After having much dialog with our new partner we were extremely satisfied and delighted that they wanted exactly the same for Suja as we did!
Here's the scoop on how we'll work together with The Coca-Cola Company: first, we have a distribution agreement, which over time will allow us to make Suja available to outlets serviced by the Odwalla chilled direct store delivery system. This means that over the next 12 months we will increase the number of locations where you can purchase our products by roughly 50%! Second, through their investment, they will be providing Suja capital so that we can build a new manufacturing plant in San Diego in order to continue to keep up with the growing demand. Third, we will leverage Coke's procurement network so that we can buy raw materials at lower costs. This will help us absorb some of the cost of our expensive organic produce and HPP process and allow us to ensure that our products are at their lowest possible price for our consumers. This is a key part of how we will be able to democratize organic juice and make it available to all. And, we know it can work. Look at Honest Tea who buys eight times more organic ingredients now than they did before they partnered with The Coca-Cola Company.
So for our fans, the only thing that will change is that we will become available in more places – which is why we started Suja in the first place – and that we will be able to run Suja in a sustainable way. Nothing about the juice itself or how we make it will change.
Since we founded Suja, we've produced over 40 million bottles of organic, non-GMO, HPP juice. Words can't describe how proud I am of that number. It means that because of Suja, there are more people drinking real, organic, delicious juice. But imagine the potential now. Imagine if there could be a Suja everywhere Coke products are sold. That number would move from millions to billions – billions of organic bottles of juice that are easy to find and priced accessibly. That could change the health landscape in a meaningful way, and that is why we are here.
Since a news leak occurred last week we have heard from a number of our valued supporters, fans and consumers. Some of those fans have said that they won't purchase our products in the future if we partner with The Coca-Cola Company. For those fans considering leaving Suja I would ask you reconsider, and to hold us accountable on our promises to you: if you notice any changes in the quality of our product, our transparency as company or our commitment to the organic & non-GMO movement, let us know! And we will make it right. I would also ask you to think about this: if a large food or beverage company were to invest in a business like Suja and it contributes to helping us grow organics from just 4% of food sales to the 45% of consumers that are searching for organic products, isn't that a good thing? If partnering with The Coca-Cola Company can help us achieve this, then together we all will have made breakthrough societal change!
If you have any questions, concerns or comments, please reach out to me directly at [email protected] and I will get back to you as quickly as I can.
Jeff Church
Suja Juice CEO & Co-Founder