Coffee Energy Shot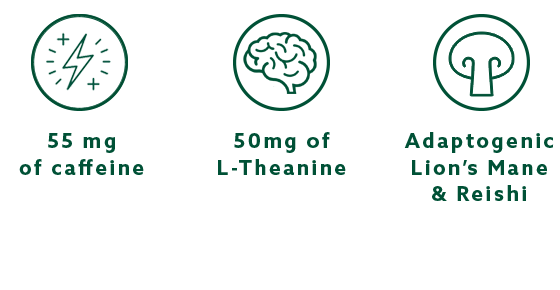 Behind the Blend
Like Coffee, But Better. Your Brain Will Thank You.
Enjoy this crash-free Coffee Energy Shot with just the right amount of caffeine from Guatemalan coffee beans, L-Theanine and no refined sugar. This smooth & silky balanced blend features 6 adaptogenic mushrooms and a taste and texture crafted to café-style perfection.
Ingredients
Purified Water, Organic Guatemalan Arabica Coffee Extract, Organic Coconut Sugar, Organic MCT Oil, Organic Green Tea Extract, Organic Lion's Mane Mushroom Extract, Organic Turkey Tail Mushroom Extract, Organic Reishi Mushroom Extract, Organic Maitake Mushroom Extract, Organic Shiitake Mushroom Extract, Organic Chaga Mushroom Extract, Bacillus coagulans.
How to Use
·

Shake vigorously and enjoy entire shot in one or two sips!

·

Perishable – Must Stay Refrigerated**
FAQ
·

Q: Do I need to refrigerate the shots?

·

Yes! Your shot pack will ship chilled and will need to be refrigerated immediately after receipt.

·

How much caffeine is in one bottle?

·

Each shot features 55mg of caffeine.

·

Q: What is the shelf life?

·

We guarantee at least a 21 day shelf life, but be sure to refrigerate and check the "best by" date stamped on each bottle if you still have product beyond 21 days.