---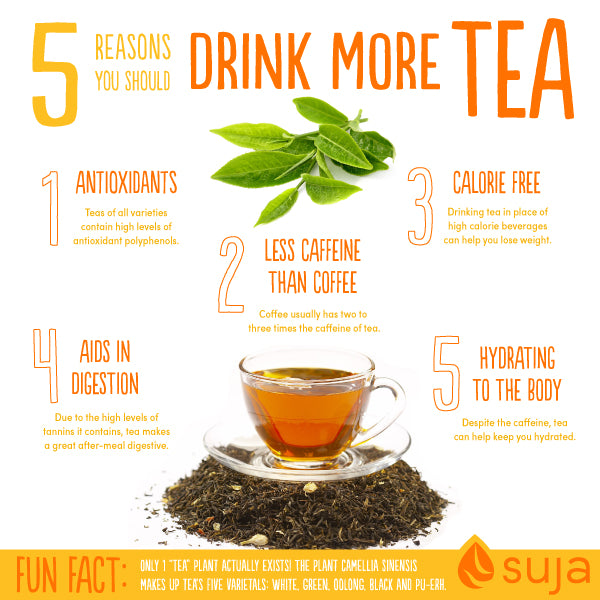 Want a refreshing beverage that packs a powerful nutritional punch?  Look no further than tea.  Tea is the second most consumed beverage in the world, next to water, and it is the most researched. (1) In just the past five years, there have been more than 5,600 scientific studies published on tea. Black, green, oolong all come from the same plant, Camellia sinensis, and each is rich in hundreds of natural compounds that have the ability to impact virtually every cell in the body.  Some of these compounds are potent antioxidants; while others provide heart-health benefits, and more. (2)
Since tea is naturally calorie-free, drinking it in place of beverages with calories can help you lose weight. However, there are additional benefits of drinking green tea that contains caffeine. Research shows that green tea with caffeine helps increases the body's energy expenditure and boosts fat metabolism.  For a significant boost, you'll need about 4 cups of green tea a day and you'd expect your body to burn off an extra 100 calories over 24 hours. (3) In one study, those who drank about 4 cups of tea a day lost nearly 3 pounds in 12 weeks. In addition to aiding in weight loss, green tea appears to boost markers for bone-building and boosts muscular strength among postmenopausal women through its anti-inflammatory properties. (3)
For your heart's sake, drinking as little as a cup of tea a day can improve the health of your arteries by allowing them to dilate and thereby help protect against high blood pressure. In fact studies show that tea drinking could reduce the incidence of stroke and heart attacks by 8-10% of a population-wide scale if we all just drank a cup of tea every day. (1)
If your brain needs a boost or you're feeling tired and unmotivated at work, stop and enjoy a cup of tea.  According to research from The Netherlands, attention, task performance and alertness were all improved by drinking tea compared to water. (3)
While drinking a cup of tea in the morning has some benefit, for the biggest payoff, the researchers recommend drinking a cup of brewed tea every few hours. Since black and green provide different beneficial compounds, so drinking both green, black, oolong or white is optimal. Herbal teas, however, are not from the same plant but some studies suggest that they may provide health benefits too. (4)
Common herbal teas include ginger, ginkgo biloba, ginseng, hibiscus, jasmine, rosehip, mint, rooibos (red tea), and chamomile. (5)
Limited research on some types of herbal teas has revealed the following:
Chamomile tea: Its antioxidants may help prevent complications from diabetes, like loss of vision and nerve and kidney damage. (6)
Hibiscus: A small study found that drinking three cups of hibiscus tea daily lowered blood pressure in people with modestly elevated levels. (7)
For a delicious teatime twist, try Jasmine Tea from Suja Juice.  Suja's Jasmine Tea contains jasmine tea, honey, lemon, pomegranate and tamarind for a refreshingly exotic experience.
Cheers,
---