Detox Juice Cleanse Program
Detox Juice Cleanse Program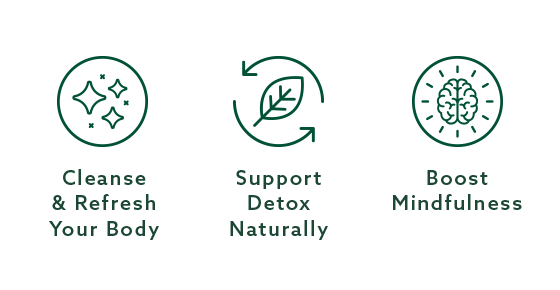 Behind the Blend
Pause & Reset
Introducing our brand new 6-Day Detox Juice Cleanse Program! This program is designed to support your body's natural detoxification process by providing a carefully curated routine. It includes a variety of cleansing, nutrient-dense juices, nourishing meal recipes, and a mindset program that encourages you to pause and reset. Although the plan is designed for 6 days, its purpose is to help you establish transformative daily habits!
The 6-Day Detox Juice Cleanse program features:

(6) 12oz Celery Juices
(6) 12oz Mighty Dozen Green Juices
(20) 2oz Detox Shots (8 for post-cleanse!)
Daily Recipes & Grocery List
Daily Mindfulness Exercises
Groceries NOT included
Ingredients
·

CELERY JUICE 12OZ: 100% JUICE Organic Celery Juice, Organic Lemon Juice.

·

MIGHTY DOZEN 12OZ 97% JUICE: Organic Apple Juice, Organic Celery Juice, Organic Cucumber Juice, Organic Kale Juice, Organic Collard Greens, Organic Lemon Juice, Organic Mint Tea (Purified Water, Organic Peppermint Tea Leaf, Organic Spearmint Tea Leaf), Organic Ginger Juice, Organic Spinach Juice, Organic Spirulina Powder, Organic Chlorella Powder, Organic Barley Grass Powder.

·

DETOX SHOT: Organic Blood Orange Juice, Orange Pineapple Juice, Organic Apple Juice, Organic Orange Juice, Organic Passionfruit Juice, Organic Guava Puree, Organic Turmeric Extract (TurmiPure Gold®), Organic Dandelion Root Extract, Organic Hibiscus Powder, Organic Green Coffee Bean Extract (Svetol®), Organic Acerola Cherry Extract.
How to Use
·

Printed User Guide will be included in juice shipment.

·

Digital User Guide will be emailed post-purchase.

·

Plan your schedule and aim to be home for your 6-day Cleanse.

·

Prepare ahead:
1) Review recipes in User Guide and plan out your 6-days of meals.
2) Make sure to stock your kitchen with ingredients needed for recipes.
3) Review the daily mindset activities to make sure they align with your schedule.
4) Get excited to feel rejuvenated and inspired!

·

Juice is Perishable – Must Stay Refrigerated**
FAQ
·

Q: What is the difference between the Detox Juice Cleanse Program and the 3-Day Cleanse?

·

The Suja Organic 3 Day Cleanse is a juice-only cleanse created for more advanced cleansers. Each day of the 3 Day Cleanse includes eight 12oz juices. The 3 Day Cleanse is meant to be used when you need a full reset. Whereas, the Detox Juice Cleanse Program is a 6-day program comprised of juices, nourishing recipes and a daily mindset activity created for all levels of cleansing experience. The Detox Juice Cleanse Program provides a kick-start for a healthy lifestyle and can be continued or repeated as desired.

·

Q: Can I join this detox program if I have food allergies or restrictions? Nuts, Gluten, Vegan… etc.

·

Yes! The detox program is entirely gluten free, dairy free, and egg free. The juices in the Detox Program are entirely gluten free and vegan. The recipes developed for this program include both vegan and animal based meals allowing you to choose what feels best for your body. For any additional allergies, restrictions, or sensitivities you can choose to remove certain ingredients altogether or substitute for an alternative.

·

Q: What are the benefits of doing this cleanse?

·

This plan was carefully designed with a Registered Dietitian and Mindset Mentor to support natural detox, boost mindfulness and kick-start a healthy lifestyle. The Program includes a juice plan, nourishing recipes and a daily mindset activities constructed to reset and empower you, mind and body.

·

Q: Can I substitute juices and/or recipes?

·

Unfortunately, you will not be able to substitute the juices that are part of this cleanse, but there is a variety of recipes to choose from if one does not fit your needs. The recipes are also incredibly flexible, so if there is an ingredient that you're unable to have, feel free to substitute it for another

·

Q: When should I do the cleanse? / Should I be home for the cleanse?

·

Be thoughtful about your start date, selecting one away from things like celebratory meals or travel, in order to have the best chance at a successful outcome.

·

Q: Why is the Detox Juice Cleanse Program 6 days?

·

We created this detox to be 6 days with the intention that most individuals will likely complete It between Monday-Saturday, allowing Sunday to be a day to reflect on the routines that really served you over the last week and properly prepare for the upcoming week ahead (unless you want to dive right in to another detox week with us!)

·

Q: Why do I have an additional 8 Detox Shots?

·

Nourishing your body to feel good is a consistent practice. To help you keep that consistency & routine after your Detox Program, we're providing you with an additional 8 Detox Shots to use over the following 8 days!