A Guide to Our Fave Seasonal Citrus Fruits
---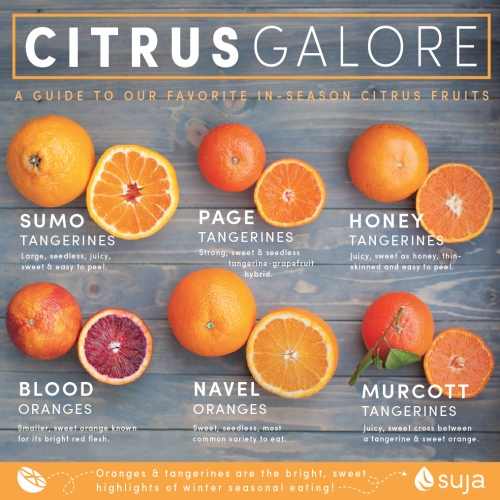 Orange you glad..it's citrus season!
As you may know, it's hard to get tasty in-season produce in the winter time. Luckily, we have one bright, yummy exception to that rule and that is CITRUS! Citrus fruits are high in vitamin C, and are great sources of folate and potassium. (1) They come into season in the warmer climates of North America and bring refreshing relief to our winter diets. Citrus fruits start to come into season in November and for the most part the last remain in season into June. (2)
Here are some of our fave picks:
Navel Oranges
Sweet, seedless, most common variety to eat (3)
Sumo Citrus
Large, seedless, juicy, sweet and easy to peel​. (4)
Blood Oranges
Smaller, sweet orange known for bright red flesh​ (5)
Honey Tangerines
Juicy, sweet as honey, thin-skinned and easy to peel.​ (6)
Page Tangerines
Strong, sweet and seedless tangerine-grapefruit hybrid (7)
Murcott Tangerines
Juicy, sweet cross between a tangerine and a sweet orange. (8)
Enjoy,
Sam Swensen & Suja Juice
SOURCES:
1. Nagy, Steven. "Vitamin C Contents of Citrus Fruit and Their Products: A Review." Journal of Agricultural and Food Chemistry 28 (1980): 8-18. ACS Publications. Web. http://pubs.acs.org/doi/abs/10.1021/jf60227a026.
2. Johnson, Dr. William. "Understand How Cold Temperatures Affect Citrus Trees." Understand How Cold Temperatures Affect Citrus Trees. Texas AgriLife Extension Service, Texas A&M System., 1 Mar. 2011. Web. http://aggie-horticulture.tamu.edu/newsletters/hortupdate/2011/mar/citrus_freeze.html
3. Understand How Cold Temperatures Affect Citrus Trees. (2011, March 1). Retrieved from http://aggie-horticulture.tamu.edu/newsletters/hortupdate/2011/mar/citrus_freeze.html
4. SUMO CITRUS. (2011). Retrieved from http://www.sumocitrus.com/sumo_description.html
5. Health Benefits of Blood Oranges. (2015). Retrieved from http://blood-oranges.com/health-benefits-of-blood-oranges/
6. "Honey Tangerines." Citrus.com The Premier Citrus Authority Source Oranges Grapefruit Honeybells RSS. The Citrus Foundation, 2010. Web. http://www.citrus.com/citrus-varieties/tangerines/honey-tangerines/
7. Furr, Dr. Joe. "Citrus Valley Collection." Tangelo. Center for Visual Computing, 1968. Web. http://www.citrusvariety.ucr.edu/citrus/page.html
8. "Murcott Tangerines." Information, Recipes and Facts. Speciality Produce, 2015. Web. http://www.specialtyproduce.com/produce/Murcott_Tangerines_2200.php