Digestion Shot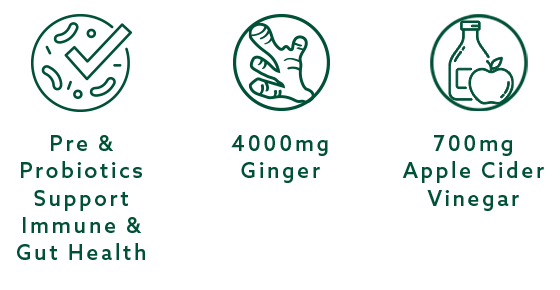 Behind the Blend
Our Gut Tells Us Your Gut Needs This.
The blend of ingredients in this Suja digestion shot are sure to lead you to a happier and healthier gut! Including ginger, apple cider vinegar, ginseng, and live probiotics – this functional, digestion shot is a great go-to when you need to get your system back on track.
Ingredients
Organic Coconut Water, Organic Pineapple Juice, Organic Ginger Juice, Organic Apple Cider Vinegar, Organic Lemon Juice, Organic Acerola Cherry Extract, Organic Panax Ginseng Extract, Organic Ground Cayenne Pepper, Bacillus coagulans.
How to Use
·

Shake vigourously (separation is natural!) and enjoy entire shot in one or two sips!

·

Perishable – Must Stay Refrigerated**
FAQ
·

Q: Do I need to refrigerate the shots?

·

Yes! Your shot pack will ship in an insulated box and will need to be refrigerated immediately after receipt.

·

Q: Help! There is something weird in the bottom of my bottle!

·

Our products are cold-pressed with fresh, plant-powered ingredients. If you see any sediment inside the bottom of your bottle, don't fret! Some of the ingredients we use settle to the bottom more than others (ginger, pepper, etc.). Ginger is the most common ingredient to see collected at the bottom of the bottle, and appears white. Simply shake up your shot to distribute all ingredients evenly throughout before enjoying!

·

Q: What is the shelf life?

·

We guarantee at least a 21 day shelf life, but be sure to refrigerate and check the "best by" date stamped on each bottle if you still have product beyond 21 days.