Energy Shot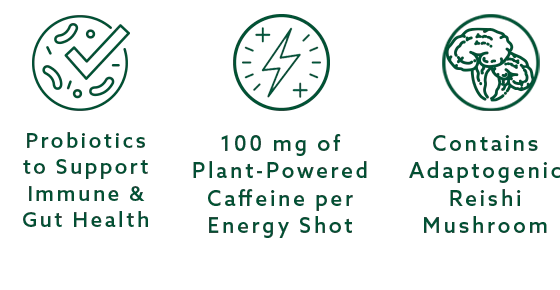 Behind the Blend
Kick Start Your Routine with Plant Powered Caffeine
These little energy shots pack a punch with organic coffee fruit & adaptogenic reishi! With 100 mg of caffeine, our organic energy shots provide a healthy energy boost at any time of day.
Ingredients
Organic Coconut Water, Purified Water, Organic Blueberry Puree, Organic Raspberry Puree, Organic Strawberry Puree, Organic Lemon Juice, Organic Tart Cherry Concentrate, Organic Coffeeberry Extract, Organic Reishi Extract, Organic Stevia Leaf Extract Powder, Bacillus coagulans.
How to Use
·

Shake vigourously (separation is natural!) and enjoy entire shot in one or two sips!

·

Perishable – Must Stay Refrigerated**
FAQ
·

Q: Do I need to refrigerate the shots?

·

Yes! Your shot pack will ship in an insulated box and will need to be refrigerated immediately after receipt.

·

Q: How much caffeine is in one 2oz shot?

·

There is approximately 100mg of caffeine in each 2oz shot, which is about the equivilent of one cup of coffee.

·

Q: What is the source of caffeine?

·

The caffeine in this shot comes from coffee fruit, also known as coffee berry, which is a small, stone fruit produced by the coffee plant.

·

Q: What is the shelf life?

·

We guarantee at least a 21 day shelf life, but be sure to refrigerate and check the "best by" date stamped on each bottle if you still have product beyond 21 days.