Probiotic Juice
Vibrant Probiotic 18-Pack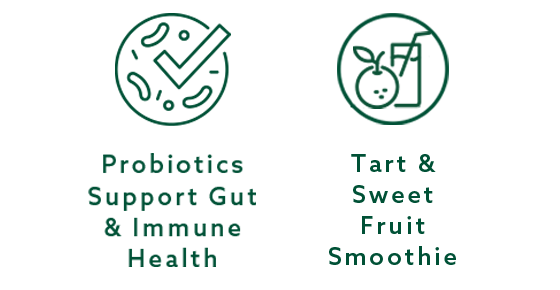 Behind the Blend
Nobody Wants A Vibrant Amateurbiotic...
Being good to your guts has never tasted so sweet! Packed with probiotics that deliver the good bacteria your body needs in a tart and sweet smoothie.
Suja Organic Vibrant Probiotic™ is USDA Certified Organic and Gluten-Free.
Ingredients
Purified Water, Organic Strawberry Juice, Organic Raspberry Juice, Organic Lemon Juice, Organic Honey, Organic Tart Cherry Concentrate, Organic Stevia Leaf Extract Powder, Bacillus coagulans.
How to Use
·

Shake vigorously (separation is natural!) and enjoy!

·

Perishable – Must Stay Refrigerated.
FAQ
·

Q: Do I need to keep refrigerated?

·

Yes! Our beverages are perishable and must be. kept refrigerated and should be consumed within 5 days of opening.

·

Q: What is the shelf life?

·

We guarantee at least a 21 day shelf life, but be sure to refrigerate and check the "best by" date stamped on each bottle if you still have product beyond 21 days.

·

Q: What size(s) is this available in?

·

Currently, this product is available in 12oz.

·

Q: Where can I buy this product?

·

This product can be found in the refrigerated area in or near the produce section. To find a retailer near you, select the Find In Store option from our menu.

·

Q: Help! There is something weird in the bottom of my bottle!

·

Our products are cold-pressed with fresh, plant-powered ingredients. If you see any sediment inside the bottom of your bottle, don't fret! Some of the ingredients we use settle to the bottom more than others (ginger, pepper, etc.). In our products that feature ginger, that is the most common ingredient to see collected at the bottom of the bottle as a white substance. Simply shake to distribute all ingredients evenly throughout before enjoying!